Alternate Download Sources
[
]
Trial Version Expired (Windows)
[
]
This method was found on Reddit.

If you want to make your own "patched" exe, follow these steps: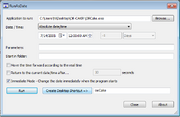 1. Download the 32-bit version (not 64-bit) of RunAsDate
2. Move OE-Cake and it's important .dll files (everything that came in the original .ZIP) to the location you would like to keep it (such as C:/Program Files/), if you haven't already
3. Start the RunAsDate program, and chose OE-Cake as the program to use
4. Set the date to any time before November 5th 2008
5. Uncheck "move forward according to real time" and check "immediate mode", and type in the name of your now-patched EXE
6. Click "Create Desktop Shortcut", and use the new shortcut to run OE-CAKE in future
This application is from an unidentified developer (OSX)
[
]
The latest versions of OSX try to protect you from malicious software by only letting you open programs from known developers. There's nothing wrong with OE-Cake other than it's age, so the way to get around this limitation:
1. Right-click on OE-Cake
2. Click "Open"
3. It will ask you for a password to allow OE-Cake to always run
4. Enjoy!
ERRORS
[
]
Error: OE-Cake fails to launch/crashes shortly after launch/after clicking a tool
Run OE-Cake in Administrator mode. 
Error: "The application could not be started because it is not configured correctly. The problem may be solved by reinstalling the application."
Solution: Install MS Visual C++ 2005 SP1 Redistributable Package for your system
Error: "The application has failed to start because it's side-by-side configuration is incorrect."
Make sure to run OE-Cake in the folder that it came in, that folder contains critical .dll files that allow it to run. 
Error: "The application has requested to terminate in an unusual way."
Solution: Install East Asian language pack (XP only, Vista supports it natively)
Step 1: In the Start menu choose "Help and Support"
Step 2: In the search box type "chinese"
Step 3: Click on "Install East Asian language files"

NEED EAST ASIAN LANGUAGE PACK FILES BUT CANT FIND YOUR WINDOWS CD? Just google "Files Necessary To Install East Asian Languages On Win"'