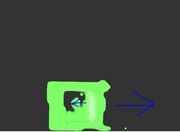 The Baker Drive is a type of reactionless drive in OE-Cake. The Inflow created propells the craft as if it were a regular inflow engine, but the outflow block removes all of the inflow particles.
How to make:
Create a rectangle of Rigid as seen in the picture
Delete a rectangle near the end, doesn't need to be very large
Use the Replace tool to Replace one side with RIG (rigid inflow gas) and the opposite side with RO (rigid outflow)

Why is it so special?
No particles come out of the engine, no exhaust = no lag
It is completely self contained
Can reach any maxSpeed set in the Parameters, but still keeps a high level of stability, more stable than Jet
Not very powerful, best used without Gravity (Unless Gas is added to make it resist gravity)